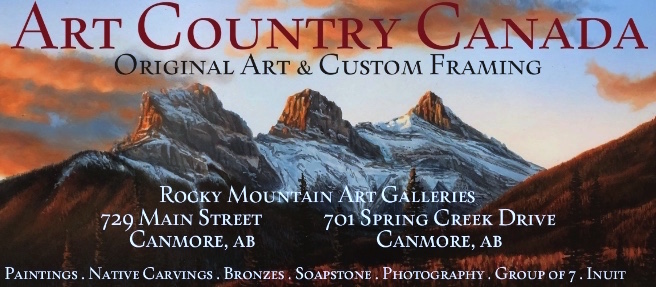 Toll Free: 1-877-265-4555 Banff 678-4456 Calgary 403-949-4141 [email protected]
Artist Directory--- -ALocation - ---Testimonials -----Rocky Mountain Art Festival --AAbout ACC
HOWARD TERPNING




We represent the entire collection of Howard Terpning.

Prices are in USD.
" PAPER THAT TALKS TWO WAYS "
Howard Terpning - 2010


s/n Giclee Canvas 33" x 40" $1,950
45 s/n Giclee Canvas 54" x 65" Email Price


Howard Terpning - Paper That Talks Two Ways


This original 58" x 70" masterpiece is part of Terpning's private collection and has never
been offered for sale. It is being seen for the first time in this Fine Art Edition offering,
the last in our 30th Anniversary series. In the painting, we see a gathering of Cheyenne
and Sioux men intently listening to a man who is an orator among his people.

The words of the peace commission have been translated to him and he is expressing
his distrust of those words. Terpning wanted the entire focus of the painting to be
on the native people, so we see only the corner of a table and the shoes of the
commissioner. The scene depicted here is not a specific treaty signing event, but
it is loosely patterned after the Fort Laramie treaty of 1868. The title comes from
the Indian expression that the treaty always said one thing to the white man
and quite another to the native people.
Art Country Canada
Rocky Mountain Art Gallery
729 Main Street
Canmore , Alberta
T1W 2B2

Call us toll free at 1-877-265-4555, click artistsdirectory for all artists.
Website www.artcountrycanada.com
Banff National Park - Art Gallery

Send mail to ART COUNTRY CANADA with questions or comments about this web site.
© Art Country Canada 2022. All Rights Reserved
Calgary 403-949-4141
Banff 403-678-4456
Join Our Emailing List...
Receive info on new Howard Terpning releases.
E-mail addresses are never shared.
Opt out anytime