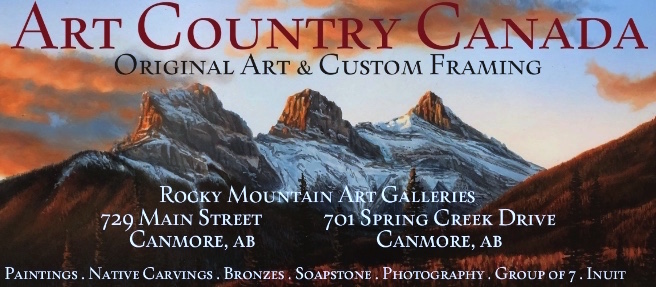 Toll Free: 1-877-265-4555 Banff 403-678-4456 Calgary 403-949-4141 [email protected]
Artist Directory--- -ALocation - ---Testimonials -----Rocky Mountain Art Festival --AAbout ACC
2023 Fall Show at the Malcolm
________________________________________________________
2023 - July 13 - July 17that the Malcolm Hotel
---------------------------------------------------------------------------------------------------------------------------------------------------------------------------
2021 -- AUGUST 19th - 22nd - 2021
CANMORE SPECIAL EVENT Sept 17th - Sept 21st- 2020
Past Festivals Below
Artist Orientation & Kickoff Party at Folk Tree Lodges


www.folktreelodge.ca

Participating Artists meet to discuss locations for painting
over the weekend while enjoying wine and food.

Swintons Art Supplies will be set up and having everything
required for Plein Air painting along with talks about painting.

Swintons is generously providing a $500 Gift Certificate for Art Supplies
to one of the winning artists for the Plein Air " friendly " Competition.

Folk Tree Lodges - Deer Lodge , a picture inside and out.

2nd & 3rd Day - Saturday & Sunday 10 am till Dusk - Sept 21-22


Participating Artists will be painting at locations throughout Bragg Creek,
Kananaskis and Canmore / Banff . The plein air paintings created can
be entered into the juried competion the following weekend at the
Bragg Creek Community Centre Art Show & Sale . www.braggcreek.ca
Vance Theoret Stone Carving 2 day Workshop Weekend
Class meet Saturday 21st and Sunday 22nd from 10-5.
4th , 5th and 6th Day Monday Sept 23- Wed. 25
Artist Workshops With Brent Heighton, Jonn Einerssen & Neil Patterson!

1. The instructors - Brent, Jonn, or Neil - inspire students to work together
and create true masterpeices! Signing up for a workshop allows free entry
into the Plein Air event.
2. Vance Theoret Stone Carving 2 day Weekday Class meet Tuesday 24th &
Wed 25th from 10-5
Bragg Creek Community Centre

8th , 9th and 10th Day - Starting Friday 27th of September
Gala Opening at the Bragg Creek Community Centre

This is a unique opportunity to meet and mingle with local and internationally
established artists. Join us for a spectacular line up of visual artists, musicians,
food and other events. The Plein Air paintings will be set up for the Collectors
Choice awards and many great artists will be live in person set up beautifully
with their newest work. Oil, Acrylic and Mixed Media paintings along with
Soapstoine and Bronze sculpture will be on display.
We have our sponsor Steinway Pianos organizing astonishing
musicians to play wonderful music the whole weekend!
Come be a part of the Bragg Creek Art Festival!
Fourth Annual Bragg Creek Art Festival
Includes 2019 Bragg Creek Plein Air Event


Registration is $85 CDN
Friday 20th Sept. , 2019 - Plein Air Kick Off Party & Orientation
Saturday, Sept 21nd, 2019 - Plein Air Painting in Bragg Creek/Canmore/Banff.
Sunday, Sept 22rd, 2019 - Plein Air Painting in Bragg Creek/Canmore/Banff.
Saturday and Sunday , 2019 Vance Theoret 2 day Stone Carving Workshop
Monday - Wednesday, Sept 23th- 25th, 2019 - Instructional Painting Workshops with

Brent Heighton / Jonn Einerssen / Neil patterson 3 days $495
Tuesday - Wednesday, Sept 23th- 25th, 2019 - Instructional Soapstone Workshop with

Vance Theoret 2 day $245
Thursday, September 26th, 2019 - Set up day for the 3 day Art Sale at the Bragg Creek Community Centre
Friday, September 27th, 2019 -Special Invite Night - Please Register - Art Sale at the Bragg Creek Community Centre
Saturday, September 28th, 2019 - Second day of the 3 day Art Sale at the Bragg Creek Community Centre
Sunday, September 29th, 2019 - Final day of the 3 day Art Sale at the Bragg Creek Community Centre
-----------------------------------------------------------------------------------------------------------------------------------------------------------------------------------------------------------------------------------------

An opportunity to be exhibited at the Bragg Creek Community Centre the final weekend when,
on Sunday, the top 3 plein air paintings will be revealed at noon. Awards will be given out through
a collectors choice type of format. The painting requirements to exhibit in that show are as follows:
paintings need to be 9 x 12, or 12 x 16, vertical or horizontal. Art Country Canada will be supplying a
consistent presentation frame for both sizes.The prices for the frames will be reasonably priced
and high quality. (This is optional for artists, they can paint in any size,it is just those who chose to
enter a painting in the juried show need to follow these requirements. We don't want to put pressure
on anyone, just come out and have a good time, bring warm clothes, and be prepared. There will be
a suggestion list to follow for those who need one.)
This will help make the exhibit consistent. One submission per artist for exhibit.


This festival is an annual event that inspires artists to meet together and
enjoy the arts, helping young local Artists to continue in their desire to make the arts
a career choice. This is an opportunity to give back and create something special for the
Calgary / Bragg Creek / Canmore area.

This is a list of items recommended for Plein Air painting;
- Easel or some other surface to steady the painting on
- paints
- brushes
- panels -
- a stool or folding chair if they don't want to stand to paint
- the materials they use to clean their brushes
- usually they need a panel carrier for wet paintings but both our locations (Elbow Falls
and Forgetmenot Pond are close to parking so they can likely just run wet paintings back
to the vehicles - there are also washroom facilities at both spots)
- warm clothing if cold, sunscreen and bug spray if warm - warm clothing includes gloves,
boots (they should wear sturdy boots in either weather - secure footing is essential),
hat, some folks bring hand warmers - it's also a good idea to bring a thermos with warm
drink - excellent at keeping you warm on a cold day.
- plenty of water and snacks to keep up the energy
- some people like to bring an umbrella to cover themselves with if raining or
if the sun is too strong, they will use it to shade the painting
-----------------------------------------------------------------------------------------------------------------------------------------------------------------------------------------------------------------------------------------

2019 Bragg Creek Art Festival
Instructional Workshops
3 day workshop - Monday - Wednesday September 24, 25 & 26 2018
Call Art Country Canada to sign up for these once in a year classes!

Call Angelo Avlonitis at Art Country Canada, 729 Main Street, Canmore
Email to: [email protected] Phone (403) 949-4141
Toll Free 1 877 265•4555

We can work in all mediums, acrylics, oils, and watercolours. As the class is focusing on
composition and the use of brushes, etc. It doesn't matter what colours they bring ,
whatever they are comfortable with. This list will be a good one for Swinton's Art
to bring out to Bragg Creek to sell.

List:
Easel, for painting upright or outside, we will have tables and people can paint flat if
they want as well, a French style easel is a good all around easel.
Canvas, prepared boards, or paper are all good. A good size is around 12 x 16.
Colours: ultramarine Blue, cobalt or Thalo blue.
Light yellow, like a cadmium yellow light, and cad yellow deep. A warm and cool yellow.
Cadmium Red, alizarin Crimson, or a magenta red(cooler) basically a warm red and a cool red.
Black, Titanium White.

Colours that are optional, dioxide purple liquid, quinacridon gold is good, oxide red (transparent)
Mediums: for oils, an odourless thinner, and a painting medium like liquin . Gamlin is a good one for
oil mediums.For Acrylics, retarder, flow medium, and water.
For watercolours, Windsor Newton are always a good quality, just be a reasonably good quality
Miscellaneous: Paper towels, palette knives, water containers, rags. An assortment of brushes,
squares, rounds, fan brushes, bristle or synthetic sable, a strip away palette, masking tape,
watercolour palettes for watercolour or acrylic.Pencils, photos for reference. Sketch pad.....
bring a lunch. Spray bottles. In the end, there are many colours and other tools that are available
and people can bring them if they want.

Swinton's Art should have some supplies for us as well in case there is something else a class
member may want to try. We have a kitchen I believe, and there are cups for coffee, and a fridge.
Will we be making coffee for our morning sessions . And last, but not least, bring enthusiasm for sure.
Brent Heighton
BRENT HEIGHTON




Brent Heighton has been a professional artist for over 32 years. His career in fine arts has allowed him to travel throughout the world in search of adventure and subjects to paint.

He is an explorer by nature, constantly trying out innovative techniques. He paints with intensity and economy, rarely wasting a motion or brush stroke, and is often called upon to give instruction in the art of painting.

Brent Heighton's watercolors, oils and acrylics have won many awards, and are found in corporate and private collections in more than 25 countries.






" THREE SISTERS "
by Brent Heighton

Acrylic Painting with Brent Heighton 2018

Monday, September 24 - 10am - 4pm
Tuesday, September 25 - 10am - 4pm
Wednesday, September 25 - 10am - 4pm

$495

Bragg Creek Community Centre

"Art is one of the few things in the today's world that is completely personal and original and expresses what a person is. It can inspire feeling, expression and passion in others. That's the intrinsic value of art."



VANCE THEORET

SOAPSTONE CARVING CLASSES
Dear Future Carvers,
I thought I would send you this email with the info to help you to prepare for our up coming workshop.
Angelo and I will be arranging some good quality stone ,which you will be able to purchase through him at his gallery
. Info on pricing will beavailable after we figure out all the costs involved.
For your subject matter. Please bring whatever reference material you want.But here though is my suggestion.
Go to my website www.vancetheoret.com,there you will find lots of pictures. Find the ones you might wish to
try and carve and copy off those pictures for your reference material.We will decide together if I think we will
have enough time to do them?
Please bring the following items:
-2 sheets 50-60 grit sandpaper
-2 sheets 400 grit wet/ dry sandpaper
- box of course steel wool
-box of fine steel wool
These should be all available at your local hardware store.
As for tools I will be bringing a selection of special files for you to use during
the workshop.Info will be
available after the class on sources if you wish to purchase your own.
Here is a list of what you should bring:
-a pair of work gloves
- a pair of rubber gloves
-small plastic wash tub
- a hand saw
- a small towel
- and the anticipation for a fun time!
-black china markers
- chisel if you have one( I will have some for your use as well)
Dress in clothes that you can get dusty because you will!
I think weather permitting we will be working outside,so dress in layers that you
can either put on or take off depending on the temperature ?
Thats all I can think of right now,but please feel to contact me if you have any
other questions or concerns. You can get my email from the website.I am looking
forward to working with you and I know we are going to have a lot of fun and my
goal ,if you follow my suggestions as you chose what to carve,is for everyone to
have a finished piece by the end of the workshop. See you soon cheers Vance

2016 was the 1st Annual Bragg Creek Art Festival and Plein Air Art Event
September 30th - October 3rd 2016 -- here are a few of the participating artists.

BRAGG CREEK PLEIN AIR ART FESTIVAL 2016
Art Country Canada
Rocky Mountain Art Gallery
729 Main Street
Canmore , Alberta
T1W 2B2
Call us toll free at 1-877-265-4555, click artistsdirectory for all artists.
Website www.artcountrycanada.com
Banff National Park - Art Gallery

Send mail to ART COUNTRY CANADA with questions or comments about this web site.
© Art Country Canada 2022. All Rights Reserved
Calgary 403-949-4141
Banff 403-678-4456
Join Our Emailing List...
Receive info on new Robert Bateman releases.
E-mail addresses are never shared.
Opt out anytime