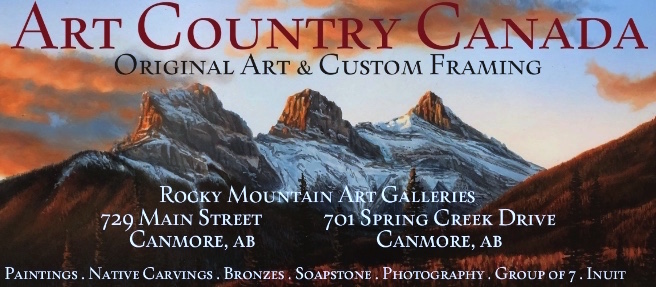 Toll Free: 1-877-265-4555 Banff 678-4456 Calgary 403-949-4141 [email protected]
Artist Directory--- -ALocation - ---Testimonials -----Rocky Mountain Art Festival --AAbout ACC
HOWARD TERPNING




We represent the entire collection of Howard Terpning.

Prices are in USD.
" MEDICINE MAN OF THE CHEYENNE "
Howard Terpning - March 2016


85 s/n Limited Edition Canvas 47" x 39"Email-price
450 s/n Paper 35.5" x 29.75" Email-price


Medicine Man of the Cheyenne - Howard Terpning


The medicine man, a central figure in Plains Indians tribes, was doctor, minister or priest and healer of the body and spirit. Not only did he know about the medicinal use of native plants, but he was trained in ceremonies and chants that were said to wield power for the benefit of an individual or the whole band.
One of the most powerful paintings to emerge from the genre of Western art is Howard Terpning's Medicine Man of the Cheyenne. This classic work shows the medicine man, with a sacred medicine bundle hanging from his shoulder, aided by a woman, as required in the tribe, who drops sweetgrass and herbs into the fire as incense.

The vertical, beautifully lit, composition, expresses the powerful force of the ceremony and earnest entreatment on behalf of an ailing warrior. Available now for the first time on canvas, this Anniversary edition of "Medicine Man of the Cheyenne" is a statement piece that will define a room in your home or office.

Medicine Man of the Cheyenne - Howard Terpning
Art Country Canada
Rocky Mountain Art Gallery
729 Main Street
Canmore , Alberta
T1W 2B2

Call us toll free at 1-877-265-4555, click artistsdirectory for all artists.
Website www.artcountrycanada.com
Banff National Park - Art Gallery

Send mail to ART COUNTRY CANADA with questions or comments about this web site.
© Art Country Canada 2022. All Rights Reserved
Calgary 403-949-4141
Banff 403-678-4456
Join Our Emailing List...
Receive info on new Howard Terpning releases.
E-mail addresses are never shared.
Opt out anytime