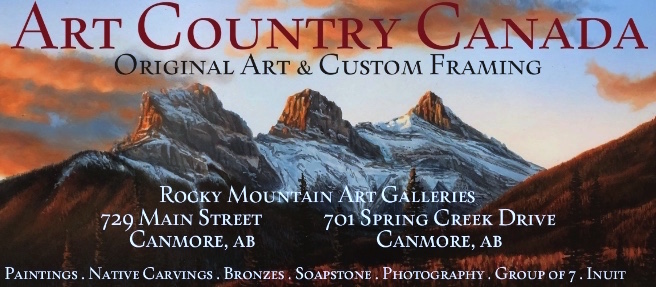 Toll Free: 1-877-265-4555 Banff 678-4456 Calgary 403-949-4141 [email protected]
Artist Directory--- -ALocation - ---Testimonials -----Rocky Mountain Art Festival --AAbout ACC
HOWARD TERPNING




We represent the entire collection of Howard Terpning.

Prices are in USD.
" PATIENT PROVIDER "
Howard Terpning - 2013


85 Signed & Numbered Limited Edition Giclee Canvas
26" x 19"
Email-Price


PATIENT PROVIDER - Howard Terpning


A Howard Terpning Fine Art Edition represents the vision, quality and value you receive when you invest in a work of art from The Greenwich Workshop: the finest art from the finest artists. "Patient Provider" reflects the values, purpose and determination of the Edition's owner as much as it does the proud people it depicts. The roles of father, son, husband, brother, friend, protector and provider are not always comfortable and easy, yet they define our highest purposes and the greatest accomplishments.
The demand for Terpning's paintings is incredible. About the only downside of that success is the lack of availability of his original work to even the most serious collector. It has been through the exacting reproduction of our Fine Art Edition program that a select audience has been able to enjoy the beauty of Howard's work. "Patient Provider" is no exception. This 26" x 19" canvas captures every detail and nuance of this master's original painting. Patient Provider will be made available to collectors in an edition of only 85.

The art you hang on your walls reflects your outlook on life and "Patient Provider" is a fine message to send.



Art Country Canada
Rocky Mountain Art Gallery
729 Main Street
Canmore , Alberta
T1W 2B2

Call us toll free at 1-877-265-4555, click artistsdirectory for all artists.
Website www.artcountrycanada.com
Banff National Park - Art Gallery

Send mail to ART COUNTRY CANADA with questions or comments about this web site.
© Art Country Canada 2022. All Rights Reserved
Calgary 403-949-4141
Banff 403-678-4456
Join Our Emailing List...
Receive info on new Howard Terpning releases.
E-mail addresses are never shared.
Opt out anytime