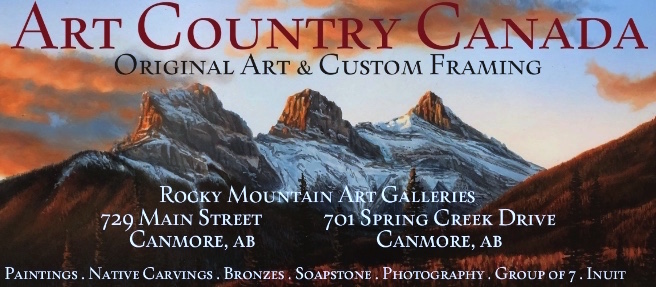 Toll Free: 1-877-265-4555 Banff 678-4456 Calgary 403-949-4141 [email protected]
Artist Directory--- -ALocation - ---Testimonials -----Rocky Mountain Art Festival --AAbout ACC
HOWARD TERPNING




We represent the entire collection of Howard Terpning.

Prices are in USD.
" ISDZAN - APACHE WOMAN "
Howard Terpning


1000 s/n Paper
21.5" x 17.375"
Email-price

Isdzan - Apache Women - Howard Terpning


"'Isdzan' is one of the Apache words meaning woman.
There are several but that is the one suggested by an Apache friend of mine. Many Apache
lived in Arizona particularly up in the White Mountains."

This model is a full-blooded Apache. She sits beside a burden basket, wearing a
Sunrise Ceremony dress - which actually is not an everyday dress and would normally have been worn
only for special occasions. It's decorated with tin cones and some beadwork. Tin cones were used as decoration
by all the tribes. They make an ice tinkling sound and some things made by the Apache were profusely
decorated with them.

Isdzan - Apache Women - Howard Terpning

Art Country Canada
Rocky Mountain Art Gallery
729 Main Street
Canmore , Alberta
T1W 2B2

Call us toll free at 1-877-265-4555, click artistsdirectory for all artists.
Website www.artcountrycanada.com
Banff National Park - Art Gallery

Send mail to ART COUNTRY CANADA with questions or comments about this web site.
© Art Country Canada 2022. All Rights Reserved
Calgary 403-949-4141
Banff 403-678-4456
Join Our Emailing List...
Receive info on new Howard Terpning releases.
E-mail addresses are never shared.
Opt out anytime