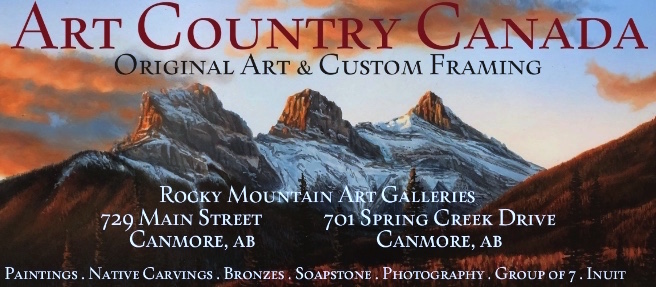 Toll Free: 1-877-265-4555 Banff 678-4456 Calgary 403-949-4141 [email protected]
Artist Directory--- -ALocation - ---Testimonials -----Rocky Mountain Art Festival --AAbout ACC
HOWARD TERPNING




We represent the entire collection of Howard Terpning.

Prices are in USD.
" THE LONG SHOT "
Howard Terpning - 2006

300 Signed & Numbered Limited Edition
Canvas 38" x 31"
Email-Price

Howard Terpning wishes he never sold the original painting of The Long Shot. Given the body of work he has created, to single out this image is a statement unto itself. The fact that the poster we released in 1983 has never gone out of print attests to the potency of the image. Over the past few years (with a sparkle in his eye) Howard has occasionally said, You know, The Long Sho 'would make a beautiful canvas. Perhaps a little slow on the uptake, we've realized just how right Howard is, The Long Shot does make a beautiful fine art canvas. The giclée on canvas process has enabled us to create a fine art reproduction of the original with the size, fidelity and vibrancy we could never attain in a poster. For those to whom the poster of such a fine work of art is not enough, this release is for you. We're quite certain where at least one of these will end up hanging.
This Crow warrior is sighting down the barrel of a Sharp's 50 caliber buffalo rifle, Terpning says of The Long Shot.It was a heavy weapon, so in the kneeling position it was necessary to support the barrel with some type of bipod-in this case, crossing two arrows does the trick. The Sharp was very accurate at long range and could bring down buffalo at a distance far beyond that of even the more advanced rifles, so it was a rifle much sought after by the Plains people. This marksman has two friends intently watching to see if his aim is true so they will have meat in their lodges at the end of the day."
The Long Shot - Howard Terpning

Click here or image to return to the Howard Terpning Homepage
Art Country Canada
Rocky Mountain Art Gallery
729 Main Street
Canmore , Alberta
T1W 2B2

Call us toll free at 1-877-265-4555, click artistsdirectory for all artists.
Website www.artcountrycanada.com
Banff National Park - Art Gallery

Send mail to ART COUNTRY CANADA with questions or comments about this web site.
© Art Country Canada 2022. All Rights Reserved
Calgary 403-949-4141
Banff 403-678-4456
Join Our Emailing List...
Receive info on new Howard Terpning releases.
E-mail addresses are never shared.
Opt out anytime