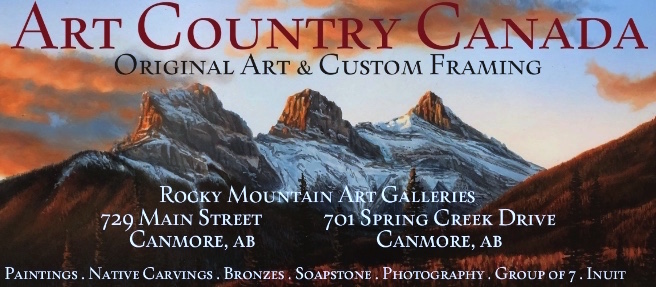 Toll Free: 1-877-265-4555 Banff 678-4456 Calgary 403-949-4141 [email protected]
Artist Directory--- -ALocation - ---Testimonials -----Rocky Mountain Art Festival --AAbout ACC
HOWARD TERPNING




We represent the entire collection of Howard Terpning.

Prices are in USD.
" LAST RAYS OF SUN "
Howard Terpning - 2001


950 Signed & Numbered Limited Edition
Paper 22" x 15"
Email-Price

Collector Book & Print
The Spirit of the Plains People book illustrated by Howard Terpning, written by Don Hedgpeth.
The Collector's Edition is accompanied by "Last Rays of Sun."
Edition of 950 signed and numbered, slipcased, 180 pages, 10 1/2″ x 12″

This warrior wears his shield on his back while his bow case and quiver cross his lap. The horizontal marks on his leggings represent the times he has counted coup in battle. Sage hen feathers adorn his hair. The strap around the horse's neck features hawk feathers and the bridle comes from a white man's horse.

Click here or image to return to the Howard Terpning Homepage



Art Country Canada
Rocky Mountain Art Gallery
729 Main Street
Canmore , Alberta
T1W 2B2

Call us toll free at 1-877-265-4555, click artistsdirectory for all artists.
Website www.artcountrycanada.com
Banff National Park - Art Gallery

Send mail to ART COUNTRY CANADA with questions or comments about this web site.
© Art Country Canada 2022. All Rights Reserved
Calgary 403-949-4141
Banff 403-678-4456
Join Our Emailing List...
Receive info on new Howard Terpning releases.
E-mail addresses are never shared.
Opt out anytime