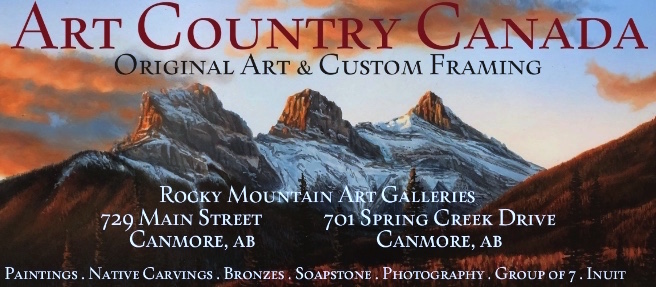 Toll Free: 1-877-265-4555 Banff 403-678-4456 Calgary 403-949-4141 [email protected]
Artist Directory--- -ALocation - ---Testimonials -----Rocky Mountain Art Festival --AAbout ACC
These exquisite re-creations are made in Canada using the most sophisticated of technology.
The Ultra Giclée process prints directly onto archival canvas using archival inks and protective coating
thus providing decades of viewing enjoyment. These timeless images from Canada's most important and
beloved historical artists, and today's contemporary masters, will certainly add to and enhance your
home or office environment. Canvas prices are unstretched.
" FLUNG BEYOND THE WATER "
Emily Carr


Giclee Arches Paper 13" x 18" $175
Giclee Arches Paper 18.3" x 28" $335




Gallery Canvas Stretching

The canvas prices above are for new unstretched canvas. We can stretch the canvas
so that it is ready to hang in North America and can stretch the canvas on a 1.5" deep stretcher bar,
called " Gallery Stretching ", or the more " Traditional Stretching " where it is .75" on the side.
Building a stretcher frame & stretching the canvas over so that it is tight like a guitar string
and ready to hang is $59 for smaller canvas to $99 for the larger size.

All pieces are also available on Art Paper.


Art Country Canada
Rocky Mountain Art Gallery
729 Main Street
Canmore , Alberta
T1W 2B2
Call us toll free at 1-877-265-4555, click artistsdirectory for all artists.
Website www.artcountrycanada.com
Banff National Park - Art Gallery

Send mail to ART COUNTRY CANADA with questions / comments about this web site.
© Art Country Canada 2022. All Rights Reserved
Calgary 403-949-4141
Banff 403-678-4456
Join Our Emailing List...
Receive info on new releases.
E-mail addresses are never shared.
Opt out anytime
Emily Carr Worlds Largest Collection of Limited Edition Prints and Canvas