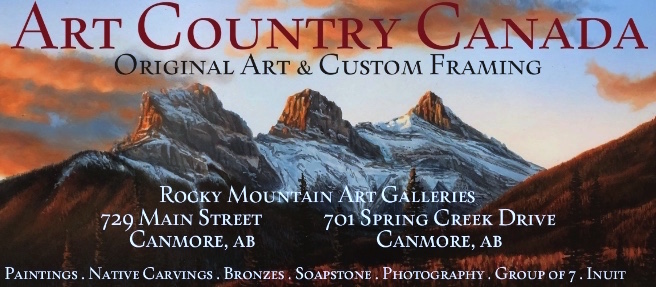 Toll Free: 1-877-265-4555 Banff 403-678-4456 Calgary 403-949-4141 [email protected]
Artist Directory--- -ALocation - ---Testimonials -----Rocky Mountain Art Festival --AAbout ACC
ROBERT BATEMAN





We represent the entire collection of Robert Bateman. Prices are in USD.


Click Here for Robert Bateman Original Paintings.
BIOGRAPHY
--------------------------------------

" IN THE OAK - GREAT HORNED OWL "
Robert Bateman


500 Signed & Numbered Lithograph Print Artist Proofs
18" x 24"
Email-price


" Great horned owls have been a part of my psyche since I was a teenager. This is not
because of their rarity. In fact, they are one of the most widespread birds, found in
forests throughout north, central and south America, from the arctic tree line tp the
straits of Magellan. Depending on the area from which they come, they can have color
forms that vary from quite pale to quite dark. The reason for their role in my psyche
has to do with their " gravitas" their presence seems powerful.

As a boy, I would direct my hikes to places where owls might be seen. To see any owl
seems to me to be an honor, bu the great horned is the most formidable of them all.
I would prowl through the darkest coniferous groves, which shelter and conceal owls
in the daytime. I would spend my time, not looking up in trees, but on the ground
for regurgitated pellets - usually mouse bones wrapped in a capsule of fur. If I found
any, it would be worthwhile to scrutinize the tree above for an owl-shaped shadow.
With luck, I would focus my binoculars on the dark blob and find the awesome
eyes looking at me. However, my best chance came with the help of crows. They
are great owl locators. As I approached, the owl (finding the harassing crows and
human presence just too much), would fly with hysterical crows in hot pursuit.
those few seconds, watching the owl's big, silent wings disappearing through the
trees, would make my day."
Robert Bateman

Robert Bateman - In The Oak - Great Horned Owl
( DUCKS UNLIMITED WINNER )

------------------------------------------------------------------------------------------------------------




CLICK HERE OR IMAGE TO RETURN TO THE ROBERT BATEMAN " I " PAGE
Art Country Canada
Rocky Mountain Art Gallery
729 Main Street
Canmore , Alberta
T1W 2B2
Call us toll free at 1-877-265-4555, click artistsdirectory for all artists.
Website www.artcountrycanada.com
Banff National Park - Art Gallery

Send mail to ART COUNTRY CANADA with questions or comments about this web site.
© Art Country Canada 2022. All Rights Reserved
Calgary 403-949-4141
Banff 403-678-4456
Join Our Emailing List...
Receive info on new Robert Bateman releases.
E-mail addresses are never shared.
Opt out anytime
Robert Bateman - In The Oak - Great Horned Owl