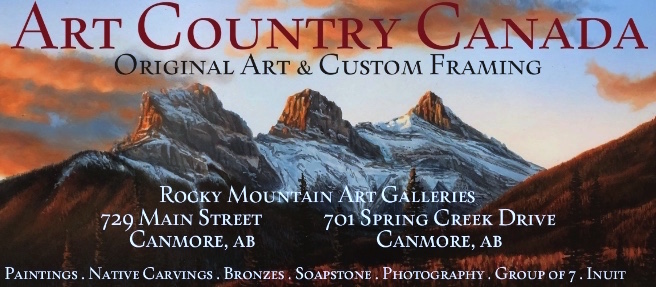 Toll Free: 1-877-265-4555 Banff 403-678-4456 Calgary 403-949-4141 [email protected]
Artist Directory--- -ALocation - ---Testimonials -----Rocky Mountain Art Festival --AAbout ACC
ROBERT BATEMAN





We represent the entire collection of Robert Bateman. Prices are in USD.


Click Here for Robert Bateman Original Paintings.
BIOGRAPHY
--------------------------------------

" HOARY MARMOT "
Robert Bateman

450 Signed & Numbered Lithograph Print
11.25" x 22.5"
$130

"On a hike in Banff National Park quite a few years ago, my family and I found ourselves
alone on a high saddle where the mountain dropped off sharply on either side.
It was one of those moments when the world stands still and all your senses become
heightened. The empty space between us and the next mountain seemed almost a
solid presence, so vivid was my impression of the great gulf of air. Then I saw a
hoary marmot poised atop a nearby pile of rocks. Despite its small size, it appeared
to be lord and master of the high peaks that stretched off in all directions. Quietly
I began moving toward it. The marmot remained motionless, allowing me to come
so close I could almost touch its beautiful mantle of silvery-white fur. My attention
was so focused that I was only half-conscious of a distant roaring sound - I dismissed
it as a high-flying jet plane - growing gradually louder. What happened next took
only a second or two, but it seemed to stretch out over a much longer span.
The marmot gave its characteristic whistle and shot down its burrow. In the split
second I cursed my bad luck, the roaring sound became so loud it seemed to come
from inside my head. I looked up to see a golden eagle plunging across the sky so
close to me that I felt the wind stirred by its dive. Then it wheeled away and soared
off in search of other prey."
Robert Bateman




Robert Bateman - Hoary Marmot

---------------------------------------------------------------------------




CLICK HERE OR IMAGE TO RETURN TO THE ROBERT BATEMAN " H " PAGE
Art Country Canada
Rocky Mountain Art Gallery
729 Main Street
Canmore , Alberta
T1W 2B2
Call us toll free at 1-877-265-4555, click artistsdirectory for all artists.
Website www.artcountrycanada.com
Banff National Park - Art Gallery

Send mail to ART COUNTRY CANADA with questions or comments about this web site.
© Art Country Canada 2022. All Rights Reserved
Calgary 403-949-4141
Banff 403-678-4456
Join Our Emailing List...
Receive info on new Robert Bateman releases.
E-mail addresses are never shared.
Opt out anytime
Robert Bateman - Hoary Marmot