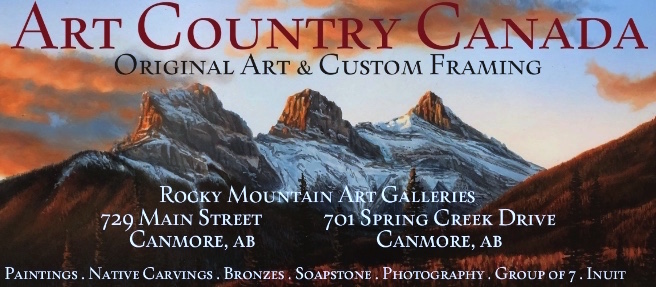 Toll Free: 1-877-265-4555 Banff 403-678-4456 Calgary 403-949-4141 [email protected]
Artist Directory--- -ALocation - ---Testimonials -----Rocky Mountain Art Festival --AAbout ACC
ROBERT BATEMAN





We represent the entire collection of Robert Bateman. Prices are in USD.


Click Here for Robert Bateman Original Paintings.
BIOGRAPHY
--------------------------------------

" HIGH CAMP AT DUSK "
Robert Bateman

950 Signed & Numbered Lithograph Print
18.375" x 32.5"
Email-price



" We had been riding steadily upward for three days. Our top camp was a beaver
meadow - a lush, natural pasture grown up on the silt deposited behind a long
forgotten beaver dam. It was the peak of a high country summer, resplendent
with flowers of many kinds.

The trip had been done in the old-fashioned way with the rancher, his wife and
two wranglers. We had 21 horses in our string. The equipment was time-tested
and non-plastic even to the cotton duck tipi-shaped tents. It was like an old
cowboy movie with clear rivers, waterfalls, flowery meadows,
sweet-scented forests and snowy peaks.

In the evening the wranglers spread out the horses across the meadow and
tethered them for the night. Stillness and peace descended like the dew.
We quietly swapped stories around the campfire. In the thicket a twig snapped.
Perhaps the wild animals of the high valley were watching us."
Robert Bateman




Robert Bateman - High Camp at Dusk

------------------------------------------------------------------------------------------




CLICK HERE OR IMAGE TO RETURN TO THE ROBERT BATEMAN " H " PAGE
Art Country Canada
Rocky Mountain Art Gallery
729 Main Street
Canmore , Alberta
T1W 2B2
Call us toll free at 1-877-265-4555, click artistsdirectory for all artists.
Website www.artcountrycanada.com
Banff National Park - Art Gallery

Send mail to ART COUNTRY CANADA with questions or comments about this web site.
© Art Country Canada 2022. All Rights Reserved
Calgary 403-949-4141
Banff 403-678-4456
Join Our Emailing List...
Receive info on new Robert Bateman releases.
E-mail addresses are never shared.
Opt out anytime
Robert Bateman - High Camp at Dusk