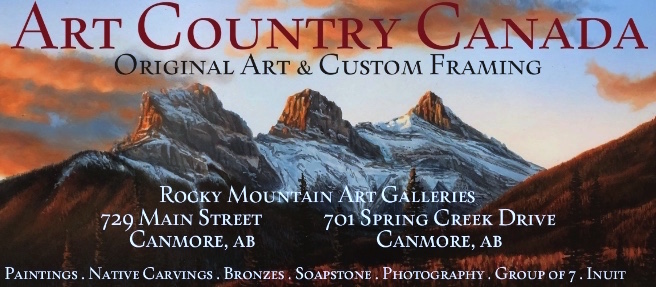 Toll Free: 1-877-265-4555 Banff 403-678-4456 Calgary 403-949-4141 [email protected]
Artist Directory--- -ALocation - ---Testimonials -----Rocky Mountain Art Festival --AAbout ACC
ROBERT BATEMAN





We represent the entire collection of Robert Bateman. Prices are in USD.


Click Here for Robert Bateman Original Paintings.
BIOGRAPHY
--------------------------------------

" HAIDA SPIRIT "
Robert Bateman

350 Signed & Numbered Giclee Print 26.5" x 18.75" Email-price
180 Signed & Numbered Giclee Canvas 34" x 24" $2895


Hand Signed by Robert Bateman

Robert Bateman - Haida Spirit - Raven - Corvus corax

"On a visit to the Queen Charlotte Islands, a Haida elder guided my wife,
Birgit, and me to a secluded spot on a peaceful bay. There, Bill Reid's canoe
sat at a lonely anchorage. It was Reid who directed the hollowing of the
50-foot canoe from a single ancient red cedar according to traditional
Haida designs, following their traditional method. The canoe was the first
of its kind in almost one hundred years. Powered by 20 Haida paddlers,
it made an epic 558-mile journey from Vancouver to Skidegate and truly
earned its name, Loo Taa (Wave Eater). Seeing the canoe was, for me,
a kind of spiritual experience. And although there was no raven present
on that day, in my mind's eye, I saw one. To the Haida, the raven is
a wily trickster-transformer who created the world, and I could see him,
hovering over the canoe, perfectly centered."
Robert Bateman


Robert Bateman - Haida Spirit

--------------------------------------------------------------------------




CLICK HERE OR IMAGE TO RETURN TO THE ROBERT BATEMAN " H " PAGE
Art Country Canada
Rocky Mountain Art Gallery
729 Main Street
Canmore , Alberta
T1W 2B2
Call us toll free at 1-877-265-4555, click artistsdirectory for all artists.
Website www.artcountrycanada.com

Banff National Park - Art Gallery

Send mail to ART COUNTRY CANADA with questions or comments about this web site.
© Art Country Canada 2022. All Rights Reserved
Calgary 403-949-4141
Banff 403-678-4456
Join Our Emailing List...
Receive info on new Robert Bateman releases.
E-mail addresses are never shared.
Opt out anytime
Robert Bateman - Haida Spirit