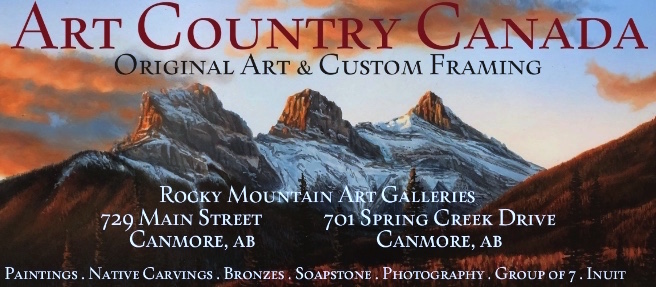 Toll Free: 1-877-265-4555 Banff 403-678-4456 Calgary 403-949-4141 [email protected]
Artist Directory - -- Location --- Testimonials --- Rocky Mountain Art Festival -- About ACC
ROBERT BATEMAN





We represent the entire collection of Robert Bateman. Prices are in USD.


Click Here for Robert Bateman Original Paintings.
BIOGRAPHY
--------------------------------------

" CHICKADEE AND ROSE HIPS "
Robert

1500 s/n Limited Edition Print
7" x 5"
$63

Hand Signed by Robert Bateman



Robert Bateman - Chickadee and Rose Hips


" If bird lovers had to pick a favorite garden bird, surely the chickadee would be
high on the list. Although not spectacular, they seem to be lively balls of joy,
especially around a winter bird feeder. Friendliness is a word that seems to
apply. I remember one winter's day when I was a boy watching with
astonishment a man standing in a park holding out his hand with one
sunflower seed at a time and chickadees coming to pluck them from his
fingers. When I returned home, I tried it on our back porch with a bit of
fruit cake. I saw a chickadee in a nearby bush. I made a squeaking
sound, and instantly I was delighted to feel the delicate cool feet on
my fingers and the little beak snatching my offering.

Those were black-capped chickadees which live all across North America from
the Appalachains to Alaska. In our western back yeard they are replaced
by the chestnut-backed chickadee. As far as I can tell, they are close
cousins except for the color. Of course, rosehips are found everywhere
across North America as well, so you might very well be
rewarded with this combination.
Robert Bateman

Chickadee and Rose Hips - Robert Bateman

------------------------------------------------------------------------------------------------------




CLICK HERE OR IMAGE TO RETURN TO THE ROBERT BATEMAN " C " PAGE
Art Country Canada
Rocky Mountain Art Gallery
729 Main Street
Canmore , Alberta
T1W 2B2
Call us toll free at 1-877-265-4555, click artistsdirectory for all artists.
Website www.artcountrycanada.com
Banff National Park - Art Gallery

Send mail to ART COUNTRY CANADA with questions or comments about this web site.
© Art Country Canada 2021. All Rights Reserved
Calgary 403-949-4141
Banff 403-678-4456
Join Our Emailing List...
Receive info on new Robert Bateman releases.
E-mail addresses are never shared.
Opt out anytime
" CHICKADEE AND ROSE HIPS "
Robert
1500 s/n Limited Edition Print
7" x 5"