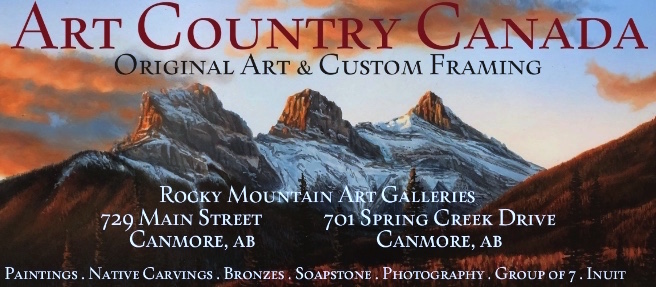 Toll Free: 1-877-265-4555 Banff 403-678-4456 Calgary 403-949-4141 [email protected]
Artist Directory - -- Location --- Testimonials --- Rocky Mountain Art Festival -- About ACC
ROBERT BATEMAN





We represent the entire collection of Robert Bateman. Prices are in USD.


Click Here for Robert Bateman Original Paintings.
BIOGRAPHY
--------------------------------------

" CHAPS - WESTERN BLUEBIRD "
Robert Bateman

950 s/n Signed & Numbered Lithograph Print
14" x 19 5/8"
Email-price

Hand Signed by Robert Bateman



Robert Bateman - Chaps Western Bluebird

"The wrangler guide rides into the clearing at the end of another day with a
pack horse train. He removes his well worn chaps and other gear. Laying tack
on the ground is not proper. He could hang it on the posts of the corral,
but this moose antler is handier.

He picked the antler up on the trail, many years ago, and hammered a spike
through it to attach it to a porch beam on his cabin. protected from the nibblings
of mice that eventually demolish all shed antlers. This rodent craving for calcium
is the reason why old antlers are seldom seen.

His cabin is in a remote valley, rarely visited. Perhaps this is why the
Western bluebird feels comfortable enough to hide its nest
somewhere within the vicinity."
Robert Bateman


Chaps - Western Bluebird - Robert Bateman

----------------------------------------------------------------------------------------------------------




CLICK HERE OR IMAGE TO RETURN TO THE ROBERT BATEMAN " C " PAGE
Art Country Canada
Rocky Mountain Art Gallery
729 Main Street
Canmore , Alberta
T1W 2B2
Call us toll free at 1-877-265-4555, click artistsdirectory for all artists.
Website www.artcountrycanada.com
Banff National Park - Art Gallery

Send mail to ART COUNTRY CANADA with questions or comments about this web site.
© Art Country Canada 2021. All Rights Reserved
Calgary 403-949-4141
Banff 403-678-4456
Join Our Emailing List...
Receive info on new Robert Bateman releases.
E-mail addresses are never shared.
Opt out anytime
" CHAPS - WESTERN BLUEBIRD "
Robert Bateman

950 s/n Limited Edition Print
14" x 19 5/8"