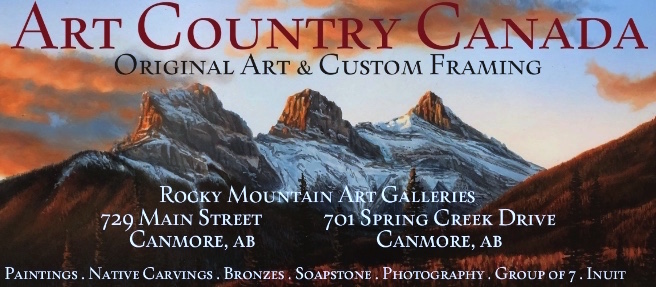 Toll Free: 1-877-265-4555 Banff 403-678-4456 Calgary 403-949-4141 [email protected]
Artist Directory - -- Location --- Testimonials --- Rocky Mountain Art Festival -- About ACC
ROBERT BATEMAN





We represent the entire collection of Robert Bateman. Prices are in USD.


Click Here for Robert Bateman Original Paintings.
BIOGRAPHY
--------------------------------------

" CANADA GEESE WITH YOUNG "
Robert Bateman

950 Signed & Numbered Limited Edition Print
11" x 18.5"
Email-price


Hand Signed by Robert Bateman

Robert Bateman - Canada Geese With Young

" Geese and swans are famous in the animal kingdom for their faithfulness as partners.
They usually mate for life, whereas the normal pattern in most species is to mate with different
partners each breeding season. Then very often the male and female part company, and they
never see each other again. This, of course, relates to the need for both sexes to help with the
rearing of the young. In songbirds, both are needed. In many other species, from salmon
to moose, the male is not needed.

With Canada geese, both parents are involved in rearing the young. The parents stay together
season after season. It has been said that if one of the pair dies, the other will not mate again.
The gander and goose have different roles. He is the sentinel and defender while she sits
on the eggs and generally stays near the young after they have hatched.

In this painting, I have tried to show these roles by the position of the adult birds. She has a
curved neck and is a little more nurturing and demure in her pose. He is alert with his
ramrod-like neck and almost militant pose. The young, of course, are not yet at the stage
of role playing. They are simply enjoying being young."
Robert Bateman

Branta canadensis

Canada Geese With Young - Robert Bateman

-----------------------------------------------------------------------------------------------------------




CLICK HERE OR IMAGE TO RETURN TO THE ROBERT BATEMAN " C " PAGE
Art Country Canada
Rocky Mountain Art Gallery
729 Main Street
Canmore , Alberta
T1W 2B2
Call us toll free at 1-877-265-4555, click artistsdirectory for all artists.
Website www.artcountrycanada.com
Banff National Park - Art Gallery

Send mail to ART COUNTRY CANADA with questions or comments about this web site.
© Art Country Canada 2021. All Rights Reserved
Calgary 403-949-4141
Banff 403-678-4456
Join Our Emailing List...
Receive info on new Robert Bateman releases.
E-mail addresses are never shared.
Opt out anytime
" CANADA GEESE WITH YOUNG "
Robert Bateman
950 s/n Limtied Edition Print
11" x 18.5"