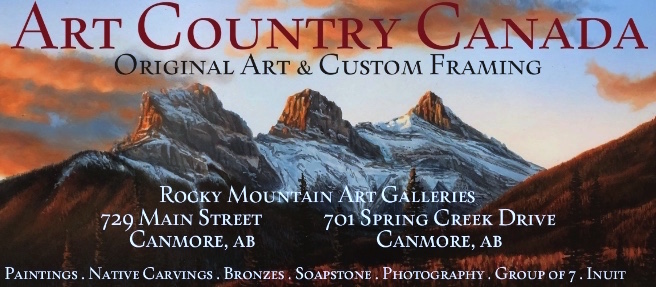 Toll Free: 1-877-265-4555 Banff 403-678-4456 Calgary 403-949-4141 [email protected]
Artist Directory - -- Location --- Testimonials --- Rocky Mountain Art Festival -- About ACC
ROBERT BATEMAN





We represent the entire collection of Robert Bateman. Prices are in USD.


Click Here for Robert Bateman Original Paintings.
BIOGRAPHY
--------------------------------------
" CALL OF THE WILD " - BALD EAGLE
Robert Bateman

950 Signed & Numbered Limited Edition Lithograph Print
19.25 " x 25.5"
Email-price


Hand Signed by Robert Bateman




Robert Bateman - Call Of The Wild

" The Bald Eagle is a bird found in the kind of countryside I especially like. It may
be found in a variety of habitats, but the common factor is a sense of space, privacy
and the presence of water. Luckily, there are still large areas of North America that
are in this category. Unfortunately, in the last few decades this was not enough

The use of agricultural pesticides, especially DDT, caused contamination even in
remote areas. Entire watersheds were suddenly polluted, and the pesticides were
concentrated in the larger fish which form an important part of the eagle's diet.
This caused infertility and a weakening of the eggshells. In a few years, the
eagles were wiped out in much of their former territory. Now that DDT has been
banned, there is evidence that they are coming back to these areas.


In this painting I have shown this bird in a dynamic calling pose. Although
there is a fierce, bold thrust to the visual image, if you could hear the actual
cry, you would probably be disappointed. It is a rather faint, high-pitched
"chittering" noise. I have used the angular thrust of the dead tree to add
to the force of the bird. In the far distance is a flock of gulls hinting at the
proximity of water, which is the inevitable component of his habitat"
Robert Bateman

Call of the Wild - Bald Eagle - Robert Bateman

----------------------------------------------------------------------------------------------------------------




CLICK HERE OR IMAGE TO RETURN TO THE ROBERT BATEMAN " C " PAGE
Art Country Canada
Rocky Mountain Art Gallery
729 Main Street
Canmore , Alberta
T1W 2B2
Call us toll free at 1-877-265-4555, click artistsdirectory for all artists.
Website www.artcountrycanada.com
Banff National Park - Art Gallery

Send mail to ART COUNTRY CANADA with questions or comments about this web site.
© Art Country Canada 2021. All Rights Reserved
Calgary 403-949-4141
Banff 403-678-4456
Join Our Emailing List...
Receive info on new Robert Bateman releases.
E-mail addresses are never shared.
Opt out anytime
" CALL OF THE WILD " - BALD EAGLE
Robert Bateman
950 s/n Limited Edition Edition